Travelling from Bangkok to Maeklong and back from Maeklong to Bangkok is one of good experience i had. Maeklong is known with its Railway Market. At here you will experience a market that located on a railway path. So you will be able to witness the beauty of how everyone play their roles in this daily operation. This post is not only about the Mae Klong Railway Market , this post is about the journey and how you can truly experience the Maeklong from the outside view of the train and inside the train. As what i always believe, it's not only about the destination, it's the journey that counts.
This is a whole day trip. But you can still make it even you not started early in the morning. So the idea is, we will use different transportation method from Bangkok to Mae Klong and Mae Klong to Bangkok. So aside from the benefits you don't have to wake up early, you will be able to experience the the different transportation and how Thailand local actually going and back to MaeKlong using public transports and all the places along the route. And of course it's the cheapest transport from Bangkok to Maeklong or at least compared to common tourist did.
Bangkok to MaeKlong
First you will take BTS from anywhere nearby your hotel, follow the BTS map to Mo Chit Station. On side note, Mo Chit Station is also the nearest station to Chatuchak Market. So if you go on the day it's open, yes you still can do quick shopping at Chatuchak Market and just find a courier shop at the market to pack your things and send back to your hometown. Then you can continue your journey without load. Once you reach Mo Chit Station find some taxi / tuk tuk / motorcycle taxis to Mochit New Van Terminal. It's not very far from Mo Chit BTS, around 2 to 3KM, so you can estimate the price.
Once you reach Mo Chit New Van Terminal, you can see there are multiple building block at the Terminal, you will need to go to Block D to buy your ticket to MaeKlong. This Minibus or Van will go to MaeKlong, however it will make a few stops along the route. The total travel time around 1 hour 30 minutes to 2 hours. which only cost you 100 baht.
MaeKlong
Once reach at MaeKlong, just walk towards market. It's not very far to MaeKlong station, you will be able to figure it out. There's wet market where most of the local bought their groceries if you interested. I never tried myself cause i can't cook, but i understand the Mackerel sold there is local and fresh, not imported and it taste good. You can google Mackerel Thai. Of course there is railway market area where mostly tourist will be there. Enjoy the area, take pictures and wait for the train. Check the MaeKlong train schedule so you will know what time you can expect the train. Remember the beauty not only when the train pass through, it is also minutes before and after the train.
Mae Klong to Bangkok
Mae Klong to Ban Laem
Now, this will get more interesting. When going back, we decided to take the train. But the train will not straight to Bangkok. The final destination is to Ban Laem. The train will just cost your 10 baht from Mae Klong to Ban Laem. Go to the station, buy the ticket and enjoy your ride to Ban Laem.
Ban Laem to Mahachai
Once you reach Ban Laem, exit the train using the right exit. Follow the crowd, basically just straight and you will see some bicycle tuktuk waiting for customer. Now take the tuktuk or walk is your choice. But i prefer the bicycle tuktuk which will bring you to the river. The cost is depends on the driver, but based on my experience it's around 20 baht. They will increase a bit around 30 baht if you want to ride for 2 person. Some of them is local elderly around 60 – 70 years old, so enjoy the ride while helping them.
Once you reach the river, there will be a person sitting at a table on your left. The cost to cross the river is 3 baht per person. It's not a typo. Really, 3 baht to ride a boat to cross the river. This boat is the easiest method . If you follow Google Maps, it will lead you to cross the river using bridge which is more far.
Mahachai to Bangkok
Once reach at the other side of the river, now take a walk to the minibus terminal. When walking to this terminal, you will pass through Mahachai Market, so you can find lots of shops and foods at the area. The station name is Mahachai – Victory Monument Minibus terminal. It's opposite of Police station across the road. As the name suggested, this minibus will bring you to Victory Monument BTS Station Bangkok at a cost of 50 baht per person. Depending on the traffic condition, the journey can take around 40 minutes to 1 hour.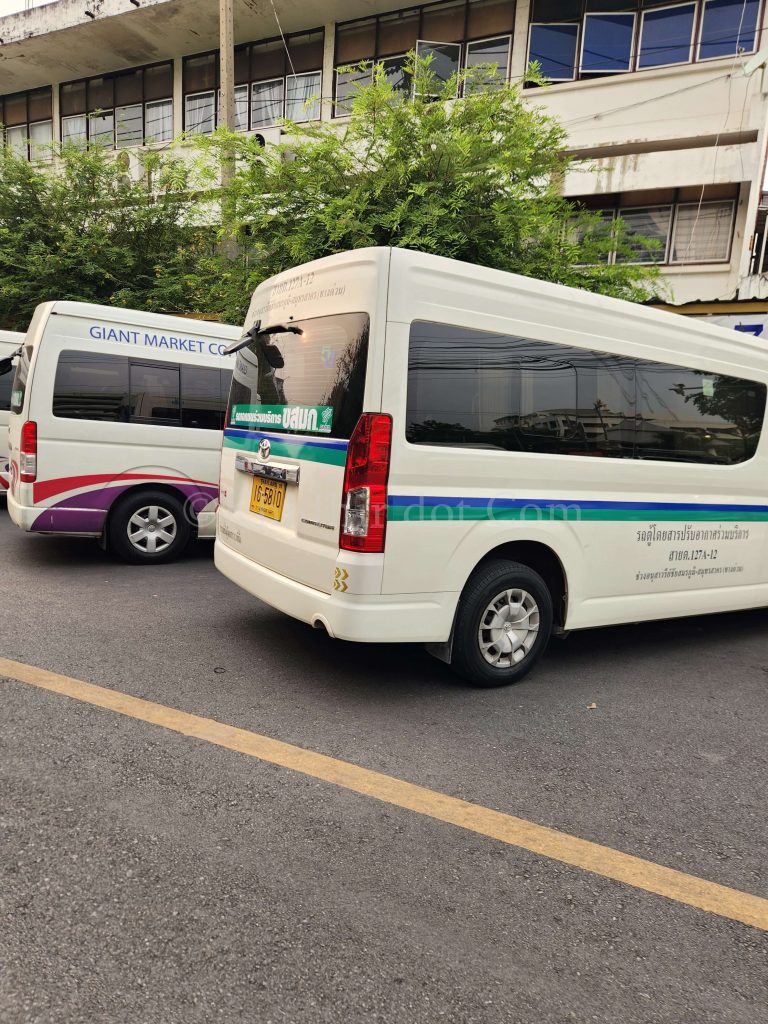 Above is a travel idea if you want to experience the journey in different way and of course it's more cheaper. If you want the easier way or for elder people, you may hire van to MaeKlong. In any cases either you feel like want to hire a van, or you love to experience as above but you don't have the confidence, do contact me. Tell me how you like to travel, i can recommend and arrange the best person to guide you. If you have other method to reach Mae Klong that you think it's more fun, do drop a comment and share with us your experience